Custom Ecommerce Development Firm
Zlanyk Technologies is a leading Custom Ecommerce Development firm that specializes in creating tailored solutions for businesses looking to establish a strong online presence. With a team of experienced developers, designers, and marketers, Zlanyk Technologies works closely with clients to understand their unique needs and goals, and deliver a high-quality ecommerce platform that is both user-friendly and visually appealing
Get guaranteed response from an Expert.
Custom Ecommerce Development Firm
Choose
CUSTOM ECOMMERCE DEVELOPMENT PACKAGE?
Flawless for starting your online Ecommerce Website
Ideal for Increasing traffic and business
Masterful for an established company and heavier customer traffic
Flawless for starting your online Ecommerce Website
Ideal for Increasing traffic and business
Masterful for an established company and heavier customer traffic
OUR CUSTOM ECOMMERCE DEVELOPMENT SERVICES
A custom ecommerce development firm provides a range of unique services to help businesses build and operate ecommerce platforms tailored to their specific needs. Here are some of the unique services that a custom ecommerce development firm might offer:
Custom Ecommerce Website Development
We design and develop customized ecommerce websites that cater to the unique requirements of our clients. Our team of experts uses cutting-edge technologies and tools to ensure that the ecommerce website is user-friendly, secure, and scalable.

Ecommerce Platform Migration
Our team has extensive experience in ecommerce platform migration. We assist businesses in migrating their ecommerce platforms to a new platform while ensuring that their data, orders, and customers are transferred seamlessly.
Ecommerce Mobile App Development
We understand the importance of having a mobile app for ecommerce businesses. Our team of experts has a deep understanding of the mobile app development process and uses the latest technologies to create mobile apps that are user-friendly, responsive, and secure.
Payment Gateway Integration
We provide payment gateway integration services to ensure that ecommerce websites have a secure and reliable payment system. We integrate payment gateways that are widely accepted and trusted, such as PayPal and Stripe.

Product Information Management
We provide Product Information Management (PIM) solutions to help businesses manage their product data efficiently. Our PIM solutions ensure that businesses have accurate and up-to-date product information.

Third-Party Integration For Ecommerce
We understand that ecommerce businesses rely on several third-party tools and services to manage their operations. At Zlanyk Technologies, we provide third-party integration services to help businesses streamline their operations.

Digital Marketing Services for Ecommerce
We provide digital marketing services to help businesses drive traffic to their ecommerce websites and increase sales. Our digital marketing services include search engine optimization (SEO), pay-per-click (PPC) advertising, and social media marketing.
24/7/365 Maintenance and Support
We provide comprehensive maintenance and support services to ensure that ecommerce websites are up and running smoothly. We offer different levels of support, from regular maintenance and updates to 24/7 support to address any issues that may arise.
EXPERIENCED
CUSTOM ECOMMERCE DEVELOPERS

For Every Situation
At Zlanyk Technologies, we have a team of experienced developers who are skilled in various ecommerce technologies like Magento, Drupal, Django, Node Js, Woocommerce, Shopify, OpenCart, Laravel, and many more. Our team members are experts in their respective technologies and have years of experience working with them
We believe that having a diverse team with expertise in different technologies allows us to provide customized solutions that meet the specific needs of our clients. For example, if a client needs an ecommerce website that is highly scalable and customizable, our team members who are experts in Magento or Laravel can provide the necessary support.
Similarly, if a client needs a simple and easy-to-use ecommerce platform, our team members who are experienced in Woocommerce or Shopify can provide the necessary expertise. Our team members stay up-to-date with the latest ecommerce technologies and trends, which allows us to provide the most innovative and cutting-edge solutions to our clients.
Overall, our team's diverse expertise in different ecommerce technologies allows us to provide customized solutions to our clients and deliver high-quality projects on time and within budget. We are committed to providing our clients with the best possible service and support throughout the entire development process.
Ecommerce Technologies

Our Developers Work With
Why choose us as your Custom Ecommerce Website Development Firm
Zlanyk Technologies offers a team of highly skilled developers who are well-versed in Ecommerce Website Development. Our developers can help your store gain more traffic and convert more of those visitors into customers.
Customers today are becoming more demanding, and the need to fulfil their demands can be challenging for small companies to meet. This is where an experienced custom Ecommerce website development company like Zlanyk Technologies comes in handy.
We are a world-class ecommerce website design company that specializes in custom ecommerce development. From big box retailers to small mom and pop shops, we can help you create the perfect online presence for your business. Whether you need a custom skin for your WordPress blog or SEO-friendly content for your Shopify store, we offer it all.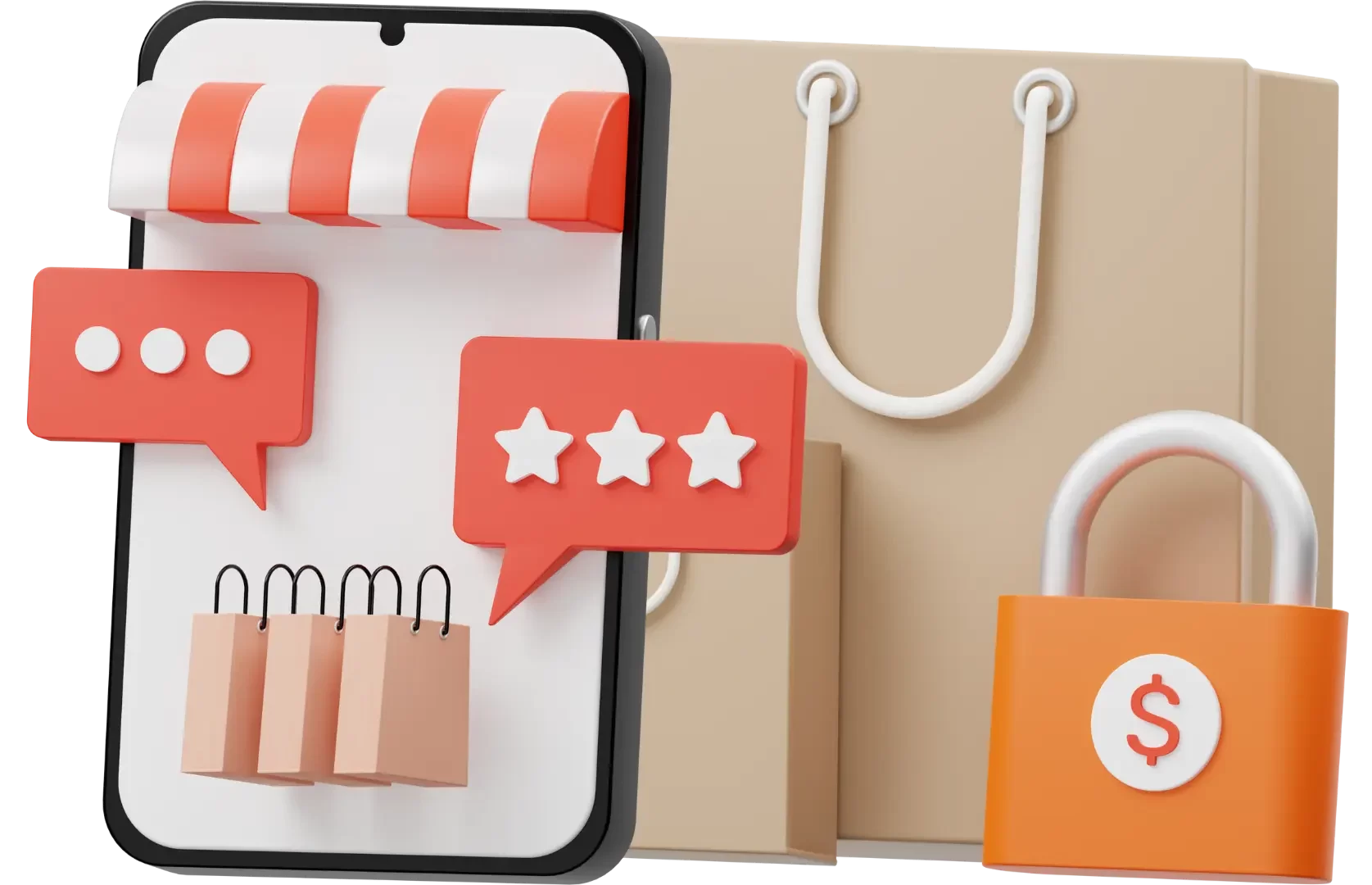 Benefits of developing your Custom Ecommerce Website by us.
Choosing Zlanyk Technologies to develop your custom ecommerce store can offer several benefits, including: 
Customized Solution
We provide tailored ecommerce solutions to meet the specific needs of your business. We work with you to understand your requirements and create a custom ecommerce store that is unique to your brand and business.

User Experience
We design ecommerce stores that offer a seamless and intuitive user experience, making it easy for your customers to navigate your store and find what they need. We focus on creating a user-friendly interface that helps to boost conversions and customer satisfaction.
Scalability
We build ecommerce stores that can grow with your business. Our ecommerce solutions are scalable, which means that you can add more products, features, and functionality as your business expands.
Security
We prioritize the security of your ecommerce store and ensure that it is built with the latest security features to protect your customers' data and information.

Mobile Responsiveness
We understand the importance of mobile responsiveness for ecommerce websites. Our custom ecommerce stores are designed to be responsive and work seamlessly across all devices, providing a consistent experience for your customers.

Search Engine Optimization (SEO)
We incorporate SEO best practices into the development of your ecommerce store to ensure that it is optimized for search engines
Discuss Your Online Project with us.
Get guaranteed response from an Expert.