How a hit
Digital Marketing Agency

Works?
WebNyk is a leading Digital Marketing company which employs the latest strategies to increase Marketing ROI. We take over your marketing strategies from top to bottom and provide services that will boost your conversions. We ensure that your ad campaigns is built for success with laser-focused on conversions.
Why Have Webnyk handle your Marketing Strategy?
Generate More Pipeline + Revenue (not just leads) from LinkedIn Ads with Less Ad Spend.
 Impactable combines deep LinkedIn expertise, Demand Gen Strategies, and our Unique Retargeting Frameworks (oh..and pricing as low as $649/mo).
Partnered with
#1 Largest Ads Agencies Globally
We've worked with 500+ B2B companies to launch, takeover, and scale their Ads efforts and we've learned a thing or two.
We have more data than anyone around and we know what ad types to leverage at what funnel stage and exactly how to configure campaign settings to achieve maximum results.
The benefit of working with THE front line experts deeply niched into Social Media is that we've saved our clients $500,000+ in wasted ad spend by knowing every platform change and update.
Most generalist marketing agencies are wasting up to 60% of your ad spend.
Actual Results of our Marketing Strategies across different platforms
We have developed the perfect Marketing Ecosystem to effectively execute your Marketing Strategies
Our Marketing Ecosystem is designed to take full advantage of LinkedIn, Facebook, Instagram, Website and Google Ads all at once.
By leveraging our Ecosystem, we guarantee that you will get 100% correct leads and in a very shorter amount of time which will save you alot of budget and increase your ROI.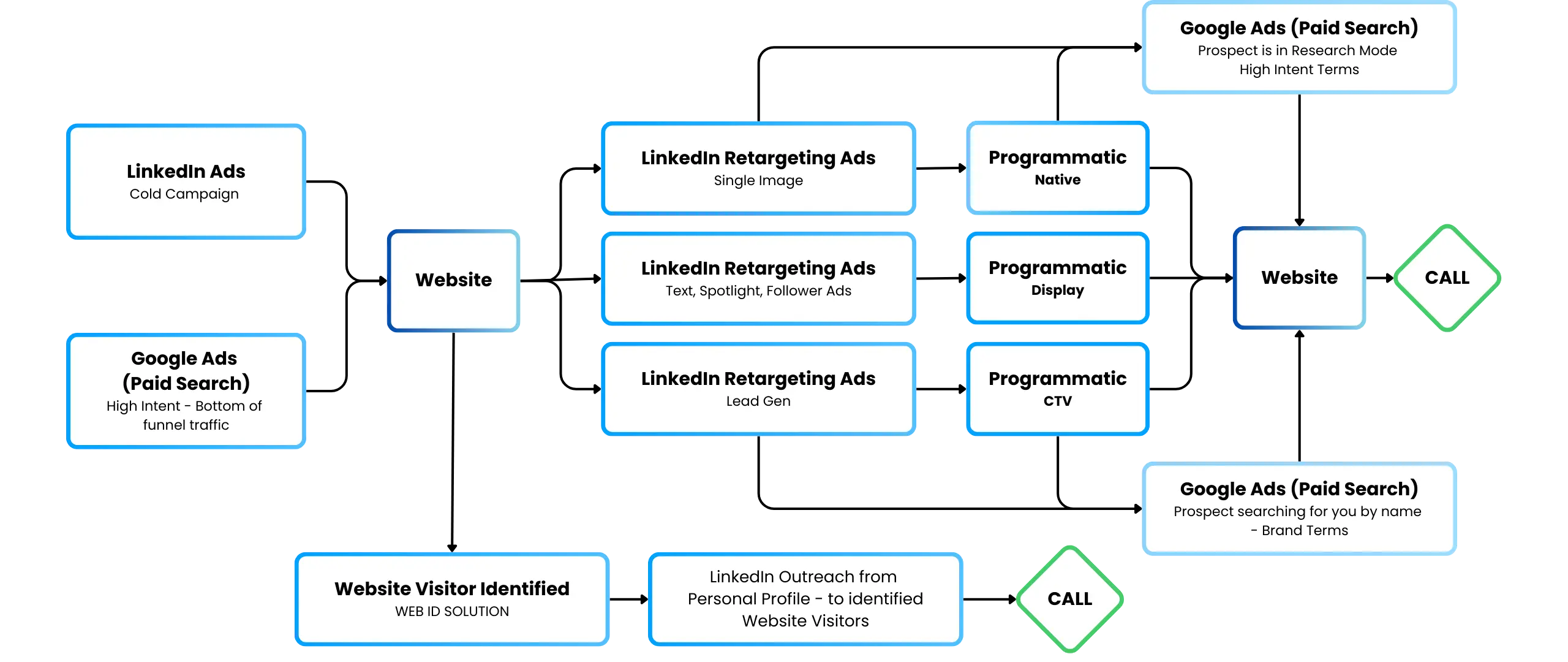 We Blaze the Trail...We Don't Follow
We've got more data than any one and we've started some 🔥 trends that have shaped the landscape in 2023. 
–Using Organic post screenshots as ad images…yep we started that back in 2021
-The elaborate 6-month retargeting framework you might have seen around? …that's ours!
-Rolled out the new influencer ads (personal page post boosting) to many of our clients 3 weeks after rollout. 
Our clients know about new features and ad types and learn best practices faster.
Lead Gen Forms Are Dying - But We've Built the Solution
B2B buyers aren't impulse shopping
Truth is that 80% of the conversions happen in the retargeting layer and require a strategy to build trust, credibility, and establish expertise in order to convert.
Our proven retargeting framework will:
Improve the cost per lead
Improve show-up rates of booked meetings
Improve ROI of all other ad channels
Improve close rates of calls
Result in larger deal sizes.
Check out our
Master Ads
Strategies for
various budget
ranges
Our Custom-Built Marketing Tools Save $$ in Wasted Spend and maximize ROI
Any one who's leveraged LinkedIn or Facebook Ads before knows the platform has some room for improvement. 
We've built out our own SaaS tool set to spot and prevent wasted ad spend. 
–Ad Scheduling (yep we got it)
-Show Actual Companies seeing your ads
–Advanced Insights and drill down reports that spot demographic trends and improve targeting
Our Fool Proof Marketing Strategy
We claim to be the best Digital Marketing Agency because of the following reasons:
Our Unique Ads Retargeting Frameworks have maximized ROI for our clients.
We have increased our clients conversions by 10% with Retargeting Strategies.
Experienced Crew in Various Social Media Platforms with both B2B and B2C Market.
Discuss Your Online Project with us.
Get guaranteed response from an Expert.